Neuroradiology Fellowship
The Neuroradiology Fellowship training program at McGaw Medical Center of Northwestern University is an ACGME-approved, one-year program based at Northwestern Memorial Hospital (NMH) and the main campus of Northwestern University Feinberg School of Medicine in the heart of Chicago between North Michigan Avenue and Lake Michigan. Fellows also rotate at the Ann & Robert H. Lurie Children's Hospital of Chicago. The program is offered to physicians who have completed their radiology residency and are American Board of Radiology board-certified/eligible. A total of six positions are available.
Watch our video
The program trains fellows in all aspects of diagnostic neuroradiology with an emphasis on advanced imaging techniques, minimally invasive diagnostic and therapeutic spine procedures and catheter angiography. Fellows will gain experience in therapeutic neuroendovascular techniques through participation in that service and will be supported in pursuing academic interests.
Curriculum
At NMH, a multidisciplinary approach to neuroimaging is the key to an excellent working environment. Northwestern has rapidly growing neurology and neurosurgery departments that have very busy neuro-oncology, neuro-vascular, stroke, epilepsy, movement disorder and neurodegenerative disorder divisions.
Neuroimaging training includes all aspects of neuroradiology of the head, neck and spine, including magnetic resonance imaging, computed tomography, PET/CT, PET/MR, ultrasound, catheter angiography and myelography. The fellows spend approximately 28 weeks on core rotations that cover CT, MR, advanced imaging and image post-processing.
Training in advanced imaging techniques is the cornerstone of our fellowship and includes fMRI, DTI, MR Perfusion, CT Perfusion, time-resolved MRA, CSF flow imaging and MR Spectroscopy. Familiarity with various post-processing software is also essential for the modern neuroradiologist. We provide training with Vitrea/Olea, syngo.via, Prism fMRI post-processing software and BrainLab.
There are six to eight weeks of dedicated head/neck training that is led by Erin McComb, MD. This rotation has grown into arguably the most-sought-after rotation in neuroradiology. The success of this rotation lies in the case material and dedication to teaching of the attending staff: For instance, Alexander Nemeth, MD, is a three-time recipient of the resident teaching award. PET/CT imaging as it is applied in head/neck cancer is a growing component of the training program and will further enhance the educational experience.
Procedure experience can be subdivided into three distinct areas: diagnostic catheter angiography, neuroendovascular therapeutics and percutaneous spine procedures.
Each fellow rotates for eight or nine weeks on the angiography service. They are responsible for all aspects of patient care, including the work-up, plan and performance of the angiogram, post-operative care and follow-up. Graduated responsibility results in independence in the angio suite while under the direct supervision of attending staff. There is an emphasis on the technical and interpretive aspects of catheter angiography with correlation to non-invasive exams. The fellows easily surpass the RRC requirement of 50 angios per fellow and further exceed that number by participating in diagnostic catheter angiograms at Lurie Children's as well as endovascular procedures at NMH and Lurie Children's. During their eight- or nine-week angio experience, the fellows actively participate in therapeutic endovascular cases along with the endovascular fellow (neuroembolization). The diagnostic portion along with initial elements of the therapeutic component are frequently performed by the fellow (i.e., you do more than flush and hold wires).
The fastest-growing procedure service in neuroradiology is the spine service. It is a comprehensive program that encompasses diagnostic and therapeutic spine services. Diagnostic services include CT, MR, CT myelography, discography and any spinal/paraspinal aspiration/biopsy. Our myelography experience goes beyond the typical case and often requires creative approaches to complex spinal problems. Any spine/paraspinal fluid, soft tissue or bone lesion requiring aspiration or biopsy is performed by our section. We utilize ultrasound, fluoroscopy and CT for the majority of these procedures. Pain management procedures include kyphoplasty, vertebroplasty and steroid injections of any kind, including translaminar ESI, transforaminal ESI, selective nerve root blocks and facet injections. Blood patches are performed in three distinct scenarios: post-LP spinal headache, post-operative dural tear and spontaneous intracranial hypotension.
Each fellow spends two consecutive months in pediatric neuroradiology at Lurie Children's, under the direction of Alok Jaju, MD. The divisions of Pediatric Neurosurgery and Neurology at Lurie Children's are excellent, and there is a close working relationship with all interrelated specialties. The fellows are exposed to all facets of Pediatric Neuroradiology, including CT, MR and invasive procedures.
Participation in research and attendance at annual scientific meetings is encouraged and fully supported. Consistent academic time is provided throughout the year. A full medical and neuroradiology library is available for fellows, as are a complete spectrum of teaching files and electronic media covering all aspects of neuroimaging and intervention. The fellows' office, located alongside the attending's offices, maintains the fellow library, ancillary educational material and desktop computers with internet and hospital systems access. The fellows may utilize any other department resources, including the administrative assistant, graphic artists, webmasters and IRB support personnel.
The Neuroradiology Section at NMH is composed of 12 fellowship-trained neuroradiologists, all of whom are members of the American Society of Neuroradiology and hold Certificates of Added Qualification in Neuroradiology. In addition to the neuroradiology fellows, four radiology residents rotate with us each month.
Fellows fully participate in all clinical, educational, and academic activities. Participation in the teaching of residents and medical students is required. Elective time is available by mutual agreement.
Our faculty is dedicated to excellence in clinical neuroradiology as well as education and research. Members of the section serve on the editorial board of the American Journal of Neuroradiology and have produced an extensive list of peer-reviewed publications in diagnostic and interventional neuroradiology.
Diagnostic Neuroradiologists:
Mon

7:30-8:30 a.m.

ENT Tumor Board

Tue

7-8 a.m.

Adult Neuroradiology Fellow Didactic Lecture

1-2 p.m.

Weekly rotating series that includes regular interdisciplinary case conferences with the neurology residents, Journal Club, QA/QM and research meetings

Wed

7-9 a.m.

Epilepsy Conference (twice monthly)

Thu

7:30-8:30 a.m.

 Neurology Case Conference

1-2 p.m.

Pediatric Neuroradiology Fellow Didactic Lecture (once monthly)

Fri

9-10 a.m.

Brain and Spine Tumor Board

9-10 a.m.

Neurovascular Conference
Weekly Rotations
Inpatient/Outpatient MRI 
Inpatient/Outpatient CT  
Functional Imaging (fMRI, DTI, CT/MR Perfusion, CTA, CSF Flow, TR-MRA, MR Spectroscopy and neonatal head US).
Head and Neck Imaging
Pediatric Imaging (Lurie Children's)
Neurointerventional Service (spine procedures and angiography)
Equipment & Facilities
NMH occupies a modern inpatient/outpatient facility, with an integrated picture archiving and communication system permitting full filmless practice. Voice recognition is in place in addition to a fully integrated electronic medical record. Home access to these systems is available and allows for flexibility.
Current equipment at NMH includes two biplane neuroangiography suites, including a new biplane flat-panel Siemens unit in a fully-loaded operating suite for use by the growing neurointerventional service.
There are nine CT scanners in place, including two 192-slice Force scanners (one in the ED), a 128-slice scanner in the ED, a dual-source 64-slice Definition scanner, three 64-slice and two 16-slice scanners. One of the 16-slice scanners is used for CT-guided procedures.
There are 17 MRI scanners at our hospital that include a state-of-the-art Biograph Siemens PET/MR system as well as multiple 3T imaging systems (Prisma, Skyra and Verio). Our Center for Translational Imaging is a research facility that is on Northwestern's downtown campus and also houses additional Prisma, Skrya and Aera systems.
Lurie Children's has two dedicated CT scanners, a PET/CT scanner, five MRI scanners and three angiography suites. The CT scanners include a Siemens FLASH scanner as well as a GE scanner that is located in the ED. There are three MRI scanners located at the main hospital (two Siemens Aera 1.5T and one Siemens Skyra 3T) and in the outpatient facilities (a GE HDX 1.5T as well as a mobile GE HD 1). Two angiography suites (Phillips biplane Allura and a Siemens Axion Artis Single plane unit) are located at the main hospital.
How to Apply
The Department of Radiology participates in the National Residency Matching Program. Applications for fellowship are accepted through the Electronic Residency Application Service (ERAS). After initial evaluation of the applications by the review committee, individuals will be offered formal interviews. Given the current Covid-19 pandemic, all interviews for the 2021-22 interview season will be held virtually. Completion of an accredited four-year radiology residency program is a prerequisite for acceptance. J1 visas are supported in this program.
Applications can be submitted via ERAS starting Nov. 17, 2021. Our application deadline is March 1, 2022.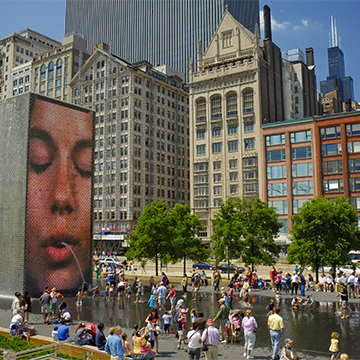 Why Northwestern?

Learn more about the benefits of training at a world-class academic medical center in a diverse and vibrant city of Chicago. Further program details, including the Department of Medicine housestaff manual and a sample training contract, are available on our McGaw Medical Center Graduate Education site.