Case of the Month
March 2023: Pyosalpinx/Tubo-ovarian abscess
History: A 30-year-old female presented to the Emergency Department with two weeks of lower abdominal pain. A contrast-enhanced CT of the abdomen and pelvis was performed, followed by pelvic ultrasound.
Findings: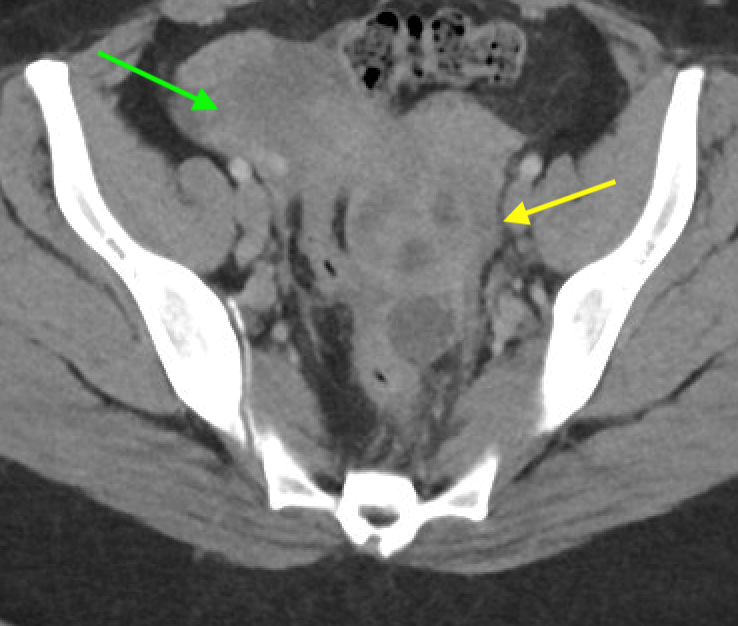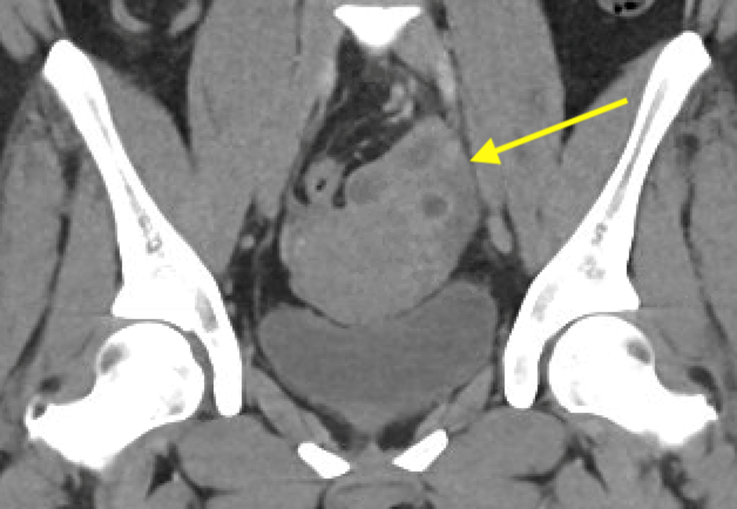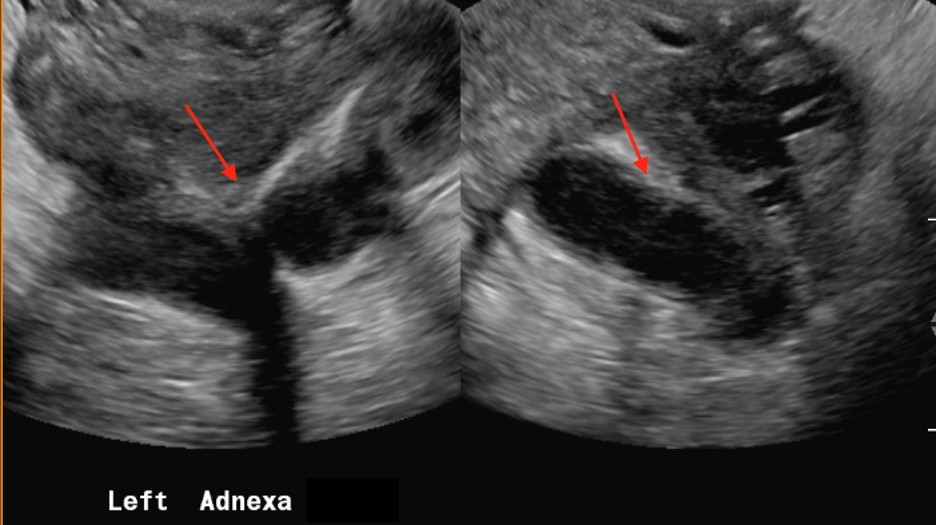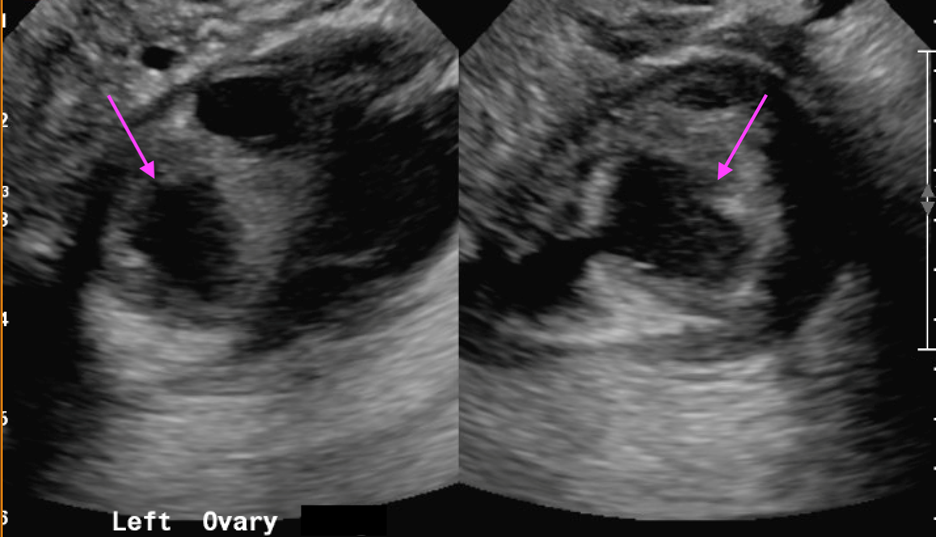 Axial and coronal contrast-enhanced images of the pelvis demonstrate a complex, multiloculated, elongated, fluid-filled tubular structure in the left adnexal region with associated wall thickening and mural enhancement (yellow arrows). The structure abuts the uterus and is associated with surrounding fat stranding. A thick-walled cystic structure is identified in the right ovary (green arrow).
Follow-up pelvic ultrasound of the left adnexa demonstrates a complex left tubular structure (red arrows) and a left ovary containing a few complex cystic structures (see purple arrows, for example). Similar findings are noted in the right adnexa (not shown).
Diagnosis: Pyosalpinx/Tubo-ovarian abscess
Teaching Points:
Pyosalpinx and tubo-ovarian abscess are part of a spectrum of disease known as pelvic inflammatory disease (PID). PID is an ascending infection of the female genital tract often caused by sexually transmitted diseases. Risk factors including multiple sexual partners, gynecological surgery, and existing intrauterine device, amongst others. It can manifest as salpingitis, pyosalpinx, and tubo-ovarian complex/abscess (in order of progression). Some patients are asymptomatic, while others present with symptoms such as pelvic pain or vaginal discharge. Broadly, ultrasound is the best modality to evaluate female pelvic pathology, including PID.
Salpingitis is the earliest stage of PID. Sonographic findings may include thickening of the fallopian tube and mural hyperemia upon color Doppler assessment, although ultrasound can often be negative as well. CT/MRI may demonstrate fallopian tube mural thickening and mucosal enhancement. Associated free fluid may be seen.  
Pyosalpinx occurs when pus accumulates in the fallopian tubes. As in the above case, ultrasound demonstrates debris-filled, dilated fallopian tubes characterized by low-amplitude echoes. Doppler assessment reveals mural hyperemia of the fallopian tubes. CT demonstrates a tubular mass-like structure adjacent to the uterus. Surrounding inflammatory change supports the diagnosis. On MRI, findings include dilated fallopian tubes with high signal intensity on T2-weighed imaging. Depending on the protein content of the fallopian tubes, T1-weighted imaging may demonstrate varying intraluminal signal.
Tubo-ovarian abscess occurs when infection involves the ovaries and peritoneal cavity, such that the ovaries and fallopian tubes become indistinguishable. Ultrasound may demonstrate a complex mixed cystic/solid adnexal mass, similar to the above case. MRI demonstrates T2-hyperintense cystic spaces and rim-enhancement of the adnexal mass.
A known complication of PID is Fitz-Hugh-Curtis syndrome, which occurs when infection spreads into the right paracolic gutter and right upper quadrant peritoneal structures. On CT, this manifests as thickening and enhancement of the liver capsule and intrahepatic perfusional variation. Chronic PID is characterized by hydrosalpinx, when there is distension of the fallopian tubes with fluid.
The mainstay of treatment of PID is appropriate antibiotic administration. In the setting of tubo-ovarian abscess, surgical intervention and/or drainage may be necessary.
References:
Chappell CA, wiesenfeld HC. Pathogenesis, Diagnosis, and Management of Severe Pelvic Inflammatory Disease and Tuboovarian Abscess. Clinical Obstetrics and Gynecology. 2012;55(4):893-903. doi:https://doi.org/10.1097/grf.0b013e3182714681
Revzin MV, Moshiri M, Katz DS, Pellerito JS, Mankowski Gettle L, Menias CO. Imaging Evaluation of Fallopian Tubes and Related Disease: A Primer for Radiologists. RadioGraphics. 2020;40(5):1473-1501. doi:https://doi.org/10.1148/rg.2020200051
Rezvani M, Shaaban AM. Fallopian Tube Disease in the Nonpregnant Patient. RadioGraphics. 2011;31(2):527-548. doi:https://doi.org/10.1148/rg.312105090