Case of the Month
November 2022: Osteoid Osteoma
History: A 12-year-old male presented to his primary care office with right leg pain for a few weeks. Further workup was performed, including radiographs of the right femur followed by an MRI of the pelvis.
Findings: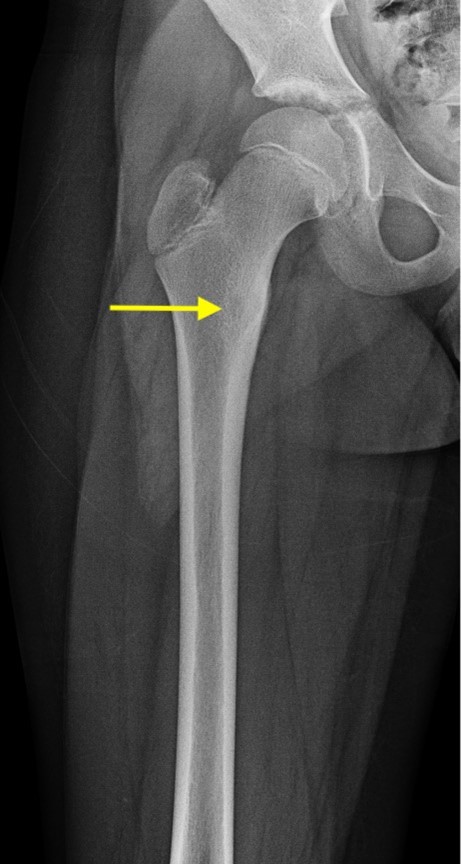 AP radiograph of the right femur shows mild sclerosis of the medial proximal femur with a subtle central lucent nidus (yellow arrow). No acute fracture is identified.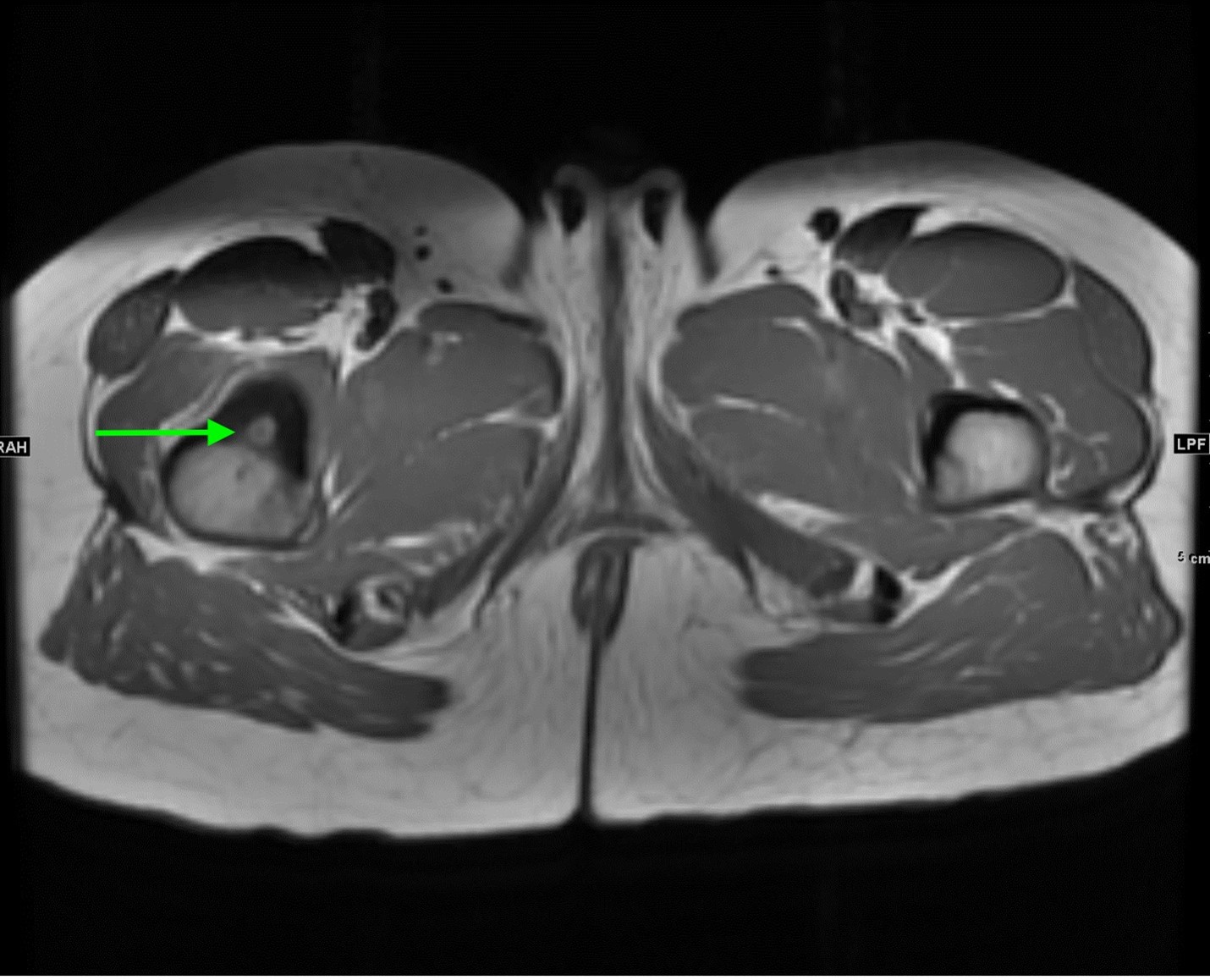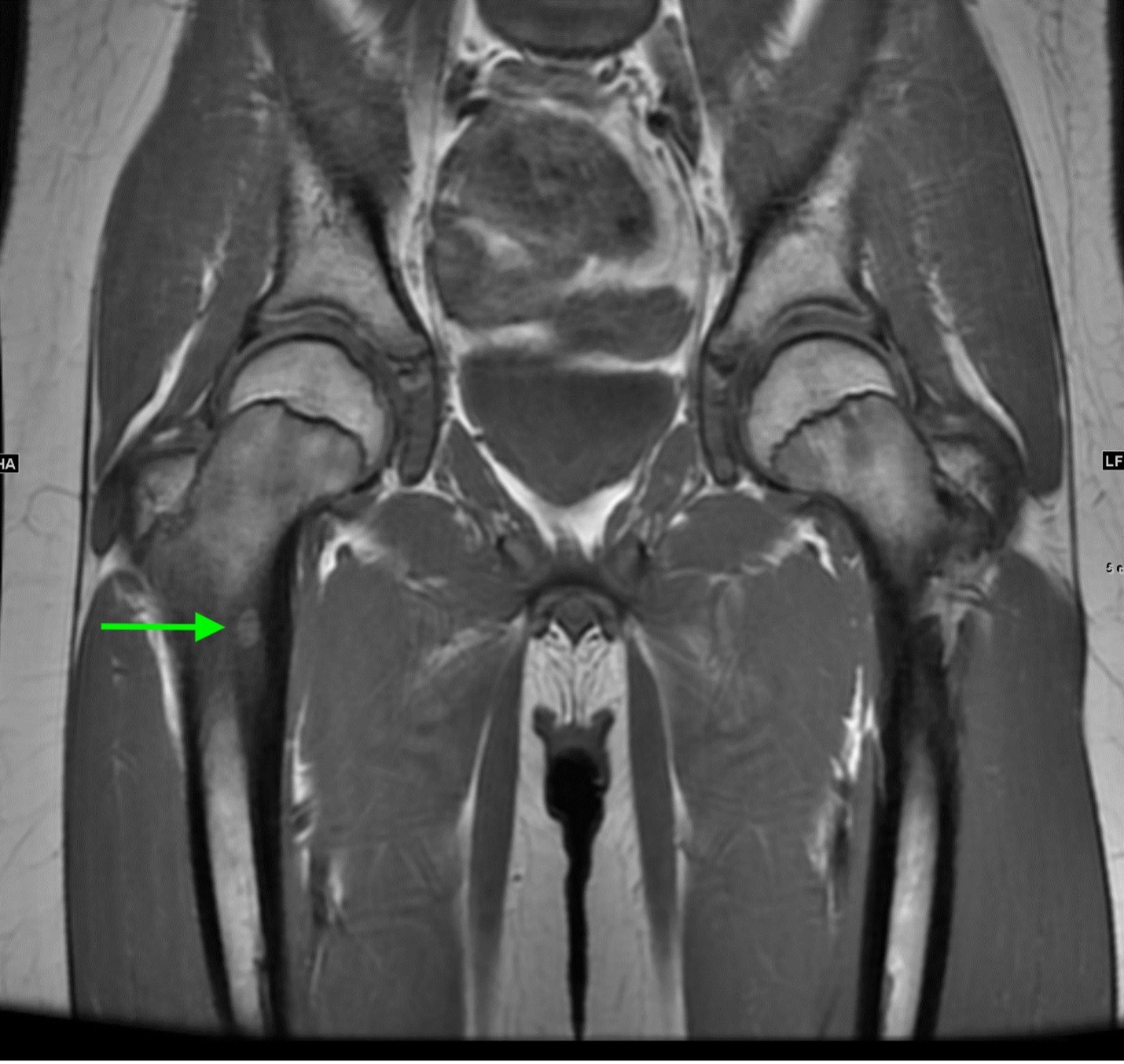 Axial and coronal T1 weighted images of the pelvis demonstrate a targetoid nidus with central T1 hypointensity compatible with calcification centered in the medial proximal right femur (green arrows). There is moderate cortical thickening surrounding the lesion. There is no evidence for fracture.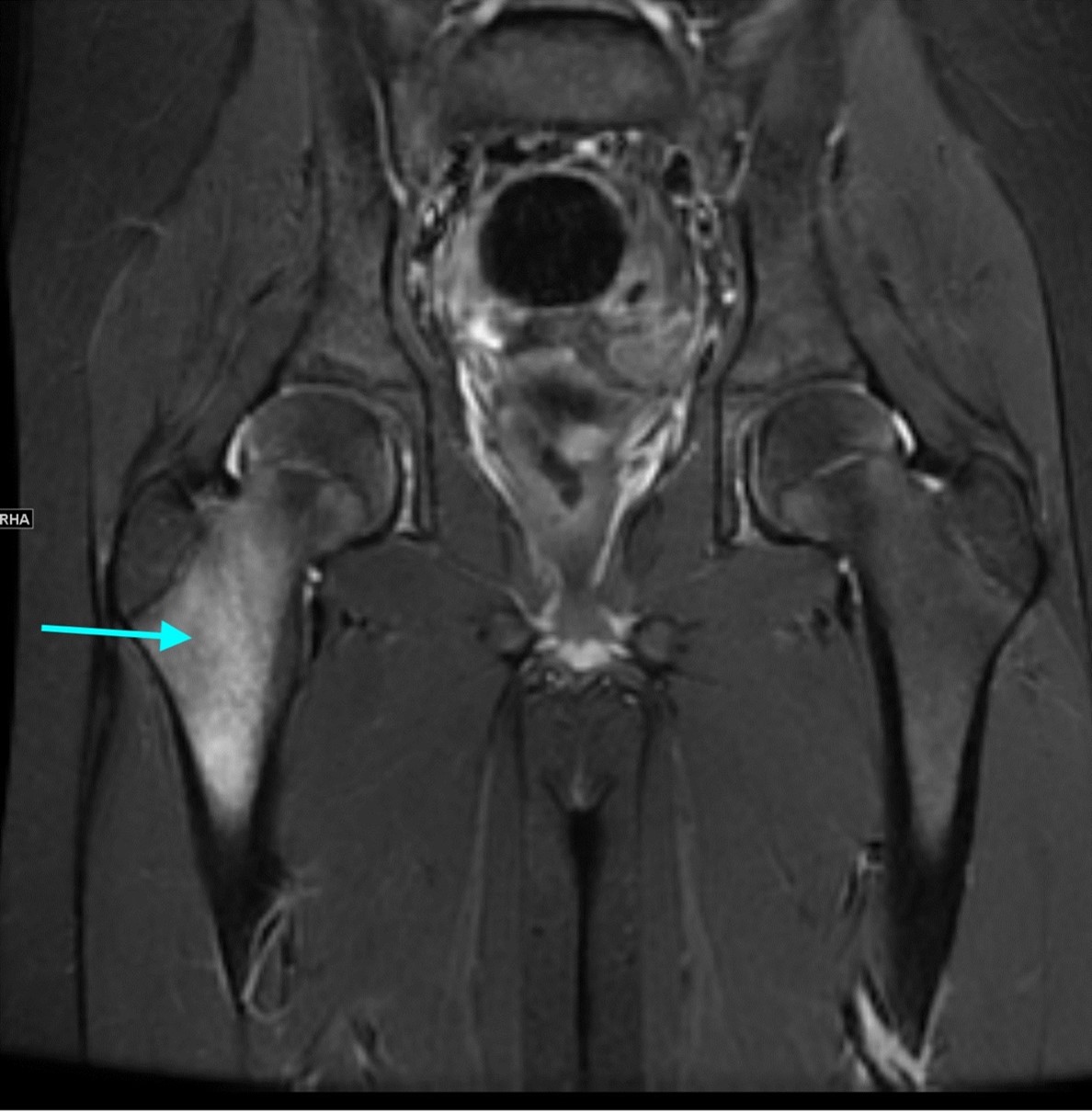 Coronal STIR images of the pelvis show extensive edema within the bone marrow surrounding the nidus extending from the proximal metaphysis to the proximal diaphysis of the right femur (teal arrow). 
Diagnosis: Osteoid osteoma
Teaching Points: Osteoid osteomas are benign skeletal lesions characterized by a nidus of osteoid tissue associated with cortical thickening, marrow edema, and sclerosis. They have a predilection for males ranging from 7 to 25 years of age. Classically, patients complain of nighttime pain that is relieved by NSAIDS/aspirin. Symptoms often occur over weeks to years before patients present to a clinician.
One of the classification schemes for osteoid osteomas divides lesions into the following categories: subperiosteal, intracortical, endosteal, and intramedullary. Osteoid osteomas can occur in almost any bone, although they are most commonly found in the long bones (particularly femur and tibia).
On radiographs, osteoid osteomas are characterized by a round/oval nidus measuring less than 2 cm that demonstrates varying degrees of calcification. There may be associated cortical thickening and sclerosis. The sensitivity of radiographs largely depends on the location of the lesion. For example, cortical lesions will often have a radiolucent nidus with surrounding sclerosis, whereas intramedullary lesions demonstrate almost no sclerosis.   
CT is excellent for identifying the nidus when radiographs are not revealing. It also appears to be superior to MRI in identifying the nidus. On CT, there is a low attenuation round/oval nidus that sometimes has high attenuation internally related to mineralization. Varying degrees of sclerosis are associated with the nidus.
On MRI, there is low/intermediate signal intensity on T1 weighted images and low to high signal intensity on T2 weighted images corresponding to different degrees of mineralization in the nidus. Sometimes, this may result in a target-like appearance. There is associated marrow edema. Effusions may be seen in the joints and soft tissues.
Important differential considerations for osteoid osteoma include stress fractures, intracortical abscess, osteoblastoma, and compensatory hypertrophy of the contralateral pedicle with unilateral spondylolysis, amongst others.
Some patients and clinicians may prefer conservative, noninterventional management for osteoid osteomas. Interventional management options include en bloc surgical resection of the osteoid osteoma nidus and image guided approaches including cryoablation, radiofrequency ablation, trephine excision, or laser thermocoagulation.
References:
Chai JW, Hong SH, Choi JY, et al. Radiologic Diagnosis of Osteoid Osteoma: From Simple to Challenging Findings. RadioGraphics. 2010;30(3):737-749. doi:10.1148/rg.303095120
Greenspan A. Benign bone-forming lesions: osteoma, osteoid osteoma, and osteoblastoma. Skeletal Radiology. 1993;22(7). doi:10.1007/bf00209095
Noordin S, Allana S, Hilal K, et al. Osteoid osteoma: Contemporary management. Orthopedic Reviews. 2018;10(3). doi:10.4081/or.2018.7496
Radcliffe SN, Walsh HJ, Carty H. Osteoid osteoma: the difficult diagnosis. European Journal of Radiology. 1998;28(1):67-79. doi:10.1016/s0720-048x(97)00071-5