Case of the Week
Week of May 16, 2022: Transient Global Amnesia
History: A 50-year-old woman presented to the Emergency Department complaining of memory loss and "mental fog" since waking up that morning.  Brain MRI was performed for further evaluation.
Findings: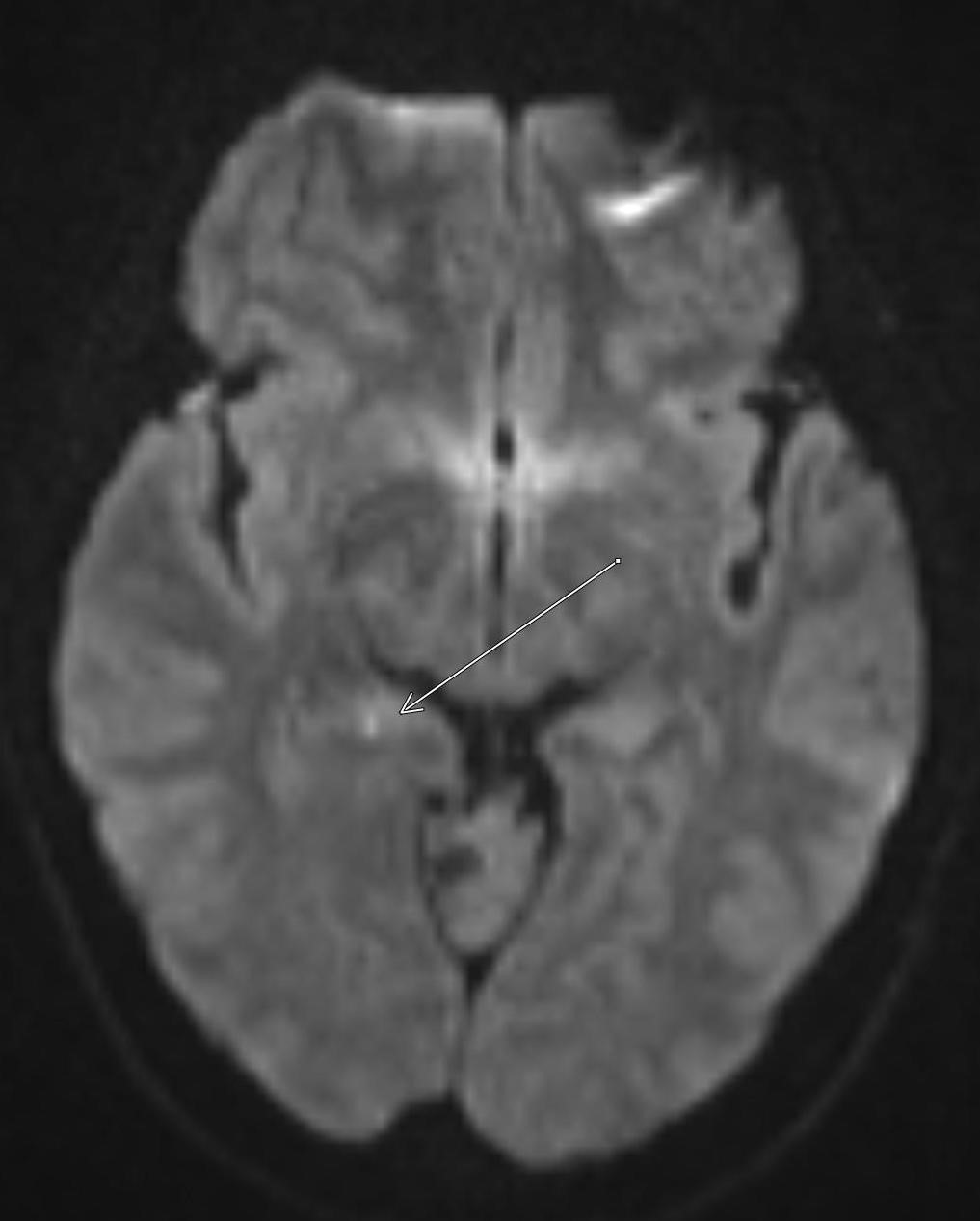 Axial diffusion-weighted MR image of the brain demonstrates a punctate focus of diffusion restriction in the right hippocampus.  There was a corresponding low-intensity signal on ADC images (not shown).
The remainder of the brain was unremarkable.  No significant FLAIR signal hyperintensity was seen to suggest a background of microvascular ischemic disease.

Diagnosis:  Transient Global Amnesia
Teaching Points:
Transient global amnesia is a rare clinical syndrome in which a patient experiences anterograde and partial retrograde short-term memory loss over a time period of less than 24 hours.  Symptoms are transient and usually completely resolve within a few hours, and there are no other associated neurological symptoms. Long-term memory is usually preserved.  The exact cause is unknown, but precipitating factors can include emotional/physical stress or pain.
Imaging is often performed to exclude other causes of amnesia, acute stroke, and structural abnormalities.  On imaging, brain CT will usually be normal. MRI can show punctate regions of diffusion restriction in the hippocampus cornu ammonis 1 (CA1), located along the lateral edge of the hippocampus abutting the temporal horn.  It can be unilateral or bilateral.
A differential consideration is a posterior circulation acute infarct.  However, in cases of posterior circulation infarct that involve the hippocampus, the area of diffusion restriction is usually larger and associated with additional areas of restricted diffusion in the occipital lobe, thalamus, or corpus callosum.
No treatment is required for transient global amnesia.  Outpatient follow-up is the standard management.
References:
Vella S, Grech R. Highlighting the classical MRI findings in transient global amnesia.  British Journal of Radiology Case Reports. 2020; 6(2).
Jain TP, et al. Transient global amnesia: Diffusion MRI findings. Indian Journal of Radiology and Imaging. 2018; 28(1).
Szabo K, et al. Diffusion-weighted MRI in transient global amnesia and its diagnostic implications. Neurology. 2020: 95(2).